Ramps and Floodwaters
you go out to look for something and find something else entirely
It was not the adventure we had planned. 
The hike we had wanted to do last weekend was washed away by rain. Already on the way there, we had driven through a puddle larger than we would have liked, though still safe. I was worried about the drive back. How much more rain would have fallen by then? My partner said: if we can see the lines on the road we're fine.
But then we came around a bend and could not see them, could not see anything but shining water. There was a blue car parked by a small lake which had appeared in the road. We waited, up on a hill. Around the bend came a group of people on foot, wading in the water back to their car, trudging through the floodwaters almost up to their thighs. Nope, my partner said. We began to back up the long gravel road.
It was a ways before there was space on the ridge to turn around.
We tried to stay cheerful on the drive back, for the child. We parked by a rushing stream and watched the water for a while. My son poked in the soggy ground with a stick. We saw and watched an owl, and it watched us. Darkness fell on the drive and then, just a few miles from home: flares shot up from the black road, the red lights of two parked trucks.
A tree had fallen in the road, wide enough to block both lanes. Roots weakened by the days of rain, the season of it, the tree must have just fallen over. There was no wind.
My partner rolled the window down to a man in a reflective vest and asked if we should find another way. The man agreed. "We gonna be awhile."
We turned around in a dirt driveway. A sign spray-painted on the gate read "fuck," my son happily pointed out. We hit another patch of high water but there was no other road. The water shined in the headlights. We stopped until we were sure we could see the white and yellow lines. The water went around a curve, but it was only a small patch. We went through it easy, and it didn't reach the middle point of the tires.
Out the windows the sunset from a light that had been absent all day looked as bright and orange as a chemical flare, a fracking rig on fire. We saw cats fighting in the road. The frogs were so loud, we could hear them over the radio, even with the windows up.
Welcome to mud season, I told my partner.
You're in Appalachia now, my child said from the backseat.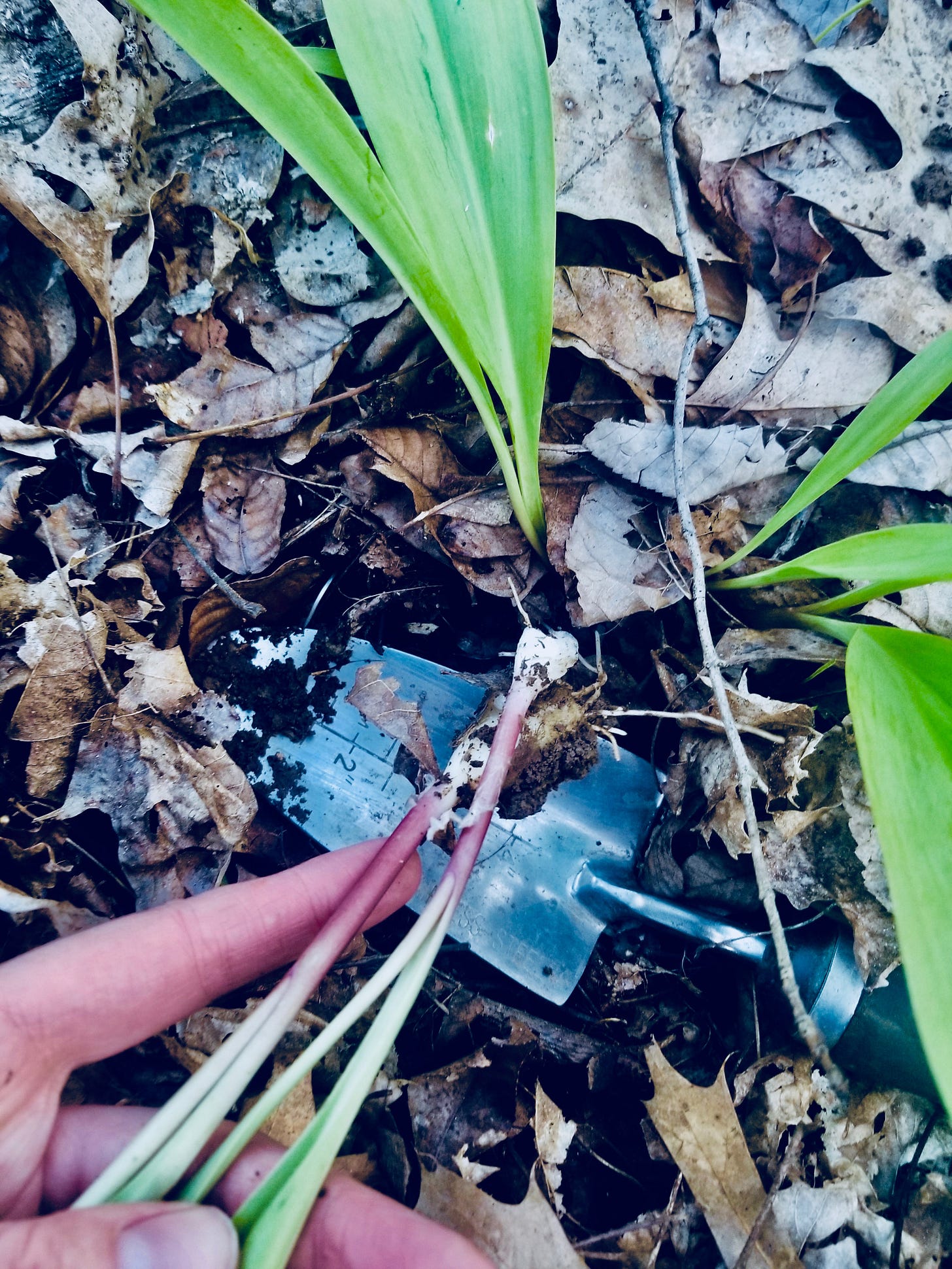 Ramps
We have been out mushroom hunting three times this year without much luck, even though I have a hand-drawn map of a friend's secret spot (he moved away and gave me the spot, by rights), even though I come from a family of foragers. I've never been great at mushroom hunting, to my shame. And my son loves morel mushrooms, which complicates things. The mushrooms are expensive to buy, and many things are hard to find now, especially those foods or remedies I used to trade for in parking lots.
But before we found morels this year, we spotted ramps.
Also known as wild leeks, ramps can be used like spring onions: in scrambled eggs or pasta. We made a pesto with them by blanching two big handfuls of ramp leaves, chopping them, and pounding them together with 1/4 cup of nuts, a couple tablespoons of grated hard cheese, three cloves of garlic, and some olive oil. You can even make ramp compound butter. But my son likes ramps just fried on the stove with bacon grease.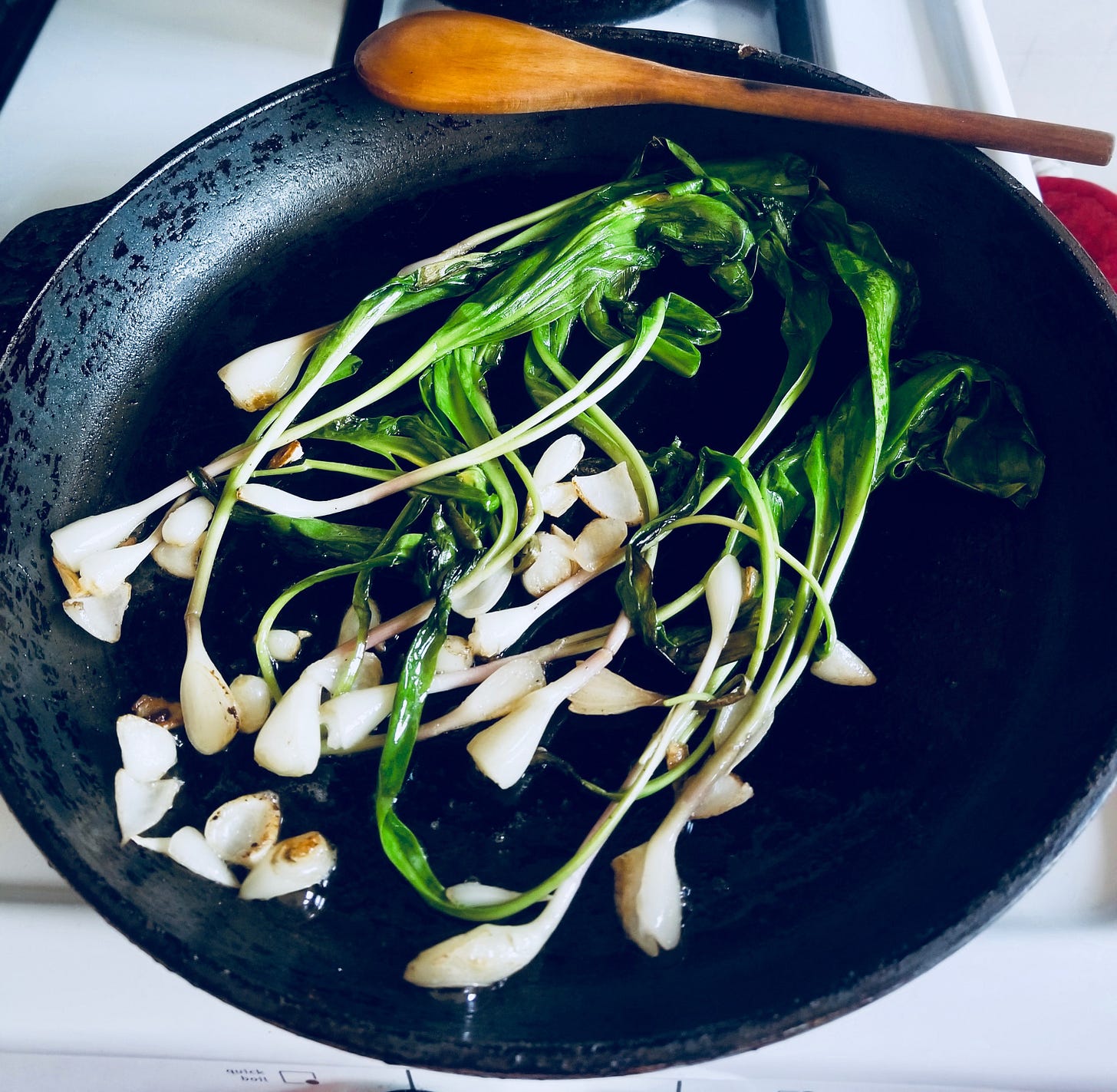 Where I live the joke goes that you can tell the season by what foraged food is appearing on a certain local restaurant menu. That also seems like a by-gone thing: seasonal menus, eating at a restaurant with friends.
But it's still ramp season, mud season, and more than ever maybe, we should use responsibly what we have, what we can find closeby.
Ramps are high in vitamin C, and taste a bit milder than onions. Fried in butter or bacon grease, the bulbs taste sweet. The plant is pretty distinctive-looking, with long, oval green leaves, and they grow in clusters. But the plant you pick needs to smell like onions or garlic—SUPER important, as some plants that look similar to ramps are poisonous: Lily of the Valley or False Hellebore. Make sure it has that garlicky, onion smell—a smell strong enough you'll want to secure them in an airtight container in the fridge. You'll need a knife to dig the plant gently.
When in doubt, leave less (taking one leaf of the plant and not both), and leave some or all of the root so that the plant can grow again.